Z dniem wczorajszym Citadel Studios, po wcześniejszej konsultacji z administratorami beta-serwerów opublikowało nową mapę drogową wraz z informacją o planowanej dacie Open Bety LoA!
Otwarta beta to bardzo ważny etap każdej gry sieciowej. Ważny albowiem pomimo okoliczności, iż cały czas pracujemy nad wieloma aspektami i dodatkami do gry, to pewne kwestie z tym związane nadal pozostają poza naszym zasięgiem. Mam na myśli informacje zwrotne i raporty o błędach w zakresie tych elementów mechaniki gry w których występuje masowe i jednoczesne współdziałanie setek/tysięcy graczy.
Dlatego też już w czerwcu bieżącego roku, po dwóch kolejnych dużych pakietach poprawek, planujemy wkroczenie w kolejną fazę rozwoju projektu, która docelowo przekształci się właśnie w Open Betę. Znajdziemy się wówczas w punkcie, w którym zaczniemy rozwiązywać problemy, możliwe do wychwycenia tylko podczas jednoczesnej interakcji dużych grup. Aby ten proces usprawnić planujemy jednoczesne rozpoczęcie dystrybucji bezpłatnych kluczy próbnych gry. Pozwoli to - przy udziale gildii i ich mistrzów - przeprowadzić kilka dużych testów, przed oddaniem naszych światów w wir prawdziwej otwartej bety.
Na lipiec Citedal Studios zakłada możliwość finalnego wipe wraz z przejściem w etap Early Access. Wówczas też wszystkie osoby, które wsparły projekt LoA poprzez Kickstarter oraz Founderzy rozpoczną swój tygodniowy headstart , po którym nastąpią - już oficjalnie - narodziny Świata Celador:)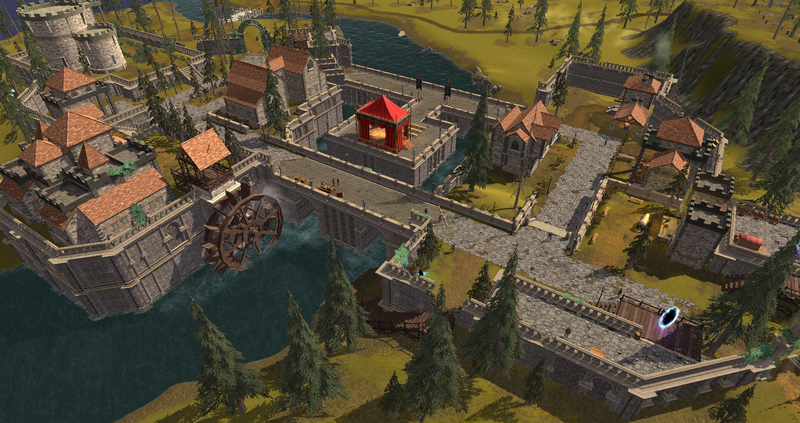 Już teraz wiemy, iż fazę wczesnego dostępu nie zostanie włączona platforma Steam. Jest to związane z koniecznością usunięcia maksymalnie dużej ilości błędów przed skorzystaniem z szansy jaką daje ten etap. Z tego również względu na drogowej mapie nie wskazano terminu premiery gry na Steam, która będzie bezsprzecznie wielkim marketingowym impulsem. Termin ten jest uzależniony od tego, co przyniesie wiosna i lato. Chociaż naszym wspólnym celem nadal pozostaje premiera LoA jeszcze na tą jesień, z racji tego, że premiery na Steam nie można powtórzyć (a falstarty bywają tu bolesne

) musimy upewnić się, iż nasz wspólny świat jest maksymalnie atrakcyjny również dla tych fanów gier MMO, którzy wcześniej o nas nie słyszeli.
Wraz z formalnym startem gry, rozpoczęty zostanie proces dystrybucji nagród dla naszych przyjaciół z Kickstartera i Founderów, dzięki którym projekt LoA stał się możliwy do realizacji. Meble, zwierzęta domowe, tytuły i wirtualne ubrania to tylko niektóre z potencjalnych przedmiotów, które zostaną dostarczone postaciom graczy w podziękowaniu za zaufanie jakim obdarzono garstkę zapaleńców, którzy lata wstecz rozpoczęli pracę nad grą, a dzięki którym wszystko to co teraz planujemy, stało się możliwe.
Wierzymy, iż Aria stanie się miejscem, w którym dane będzie nam przeżyć niezapomniane chwile. Was również - już teraz - serdecznie zapraszamy.